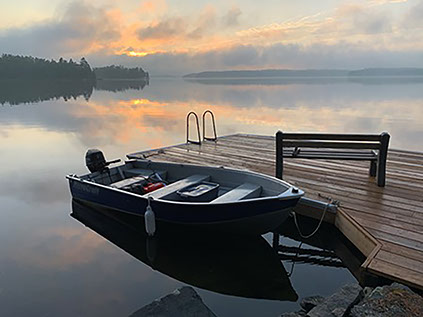 About retreats
Nature, Wisdom, and Wellness
This retreat is held in Muskoka, Ontario during the summer months, in a historic cottage on an island in famed Lake Muskoka.  
Reconnect with Nature, hike, canoe, swim, enjoy yoga on the dock. Learn and practise Reiki, discover your chakras, meditate, have fun!
~       Start the day with a gentle yoga class on the dock
~       Participate in sacred circles and a sunrise ceremony.
~       Meditate; discover your chakras; learn Reiki and self-care techniques.
Let yourself be soothed by the clear blue waters; relax in the warm atmosphere of a 106-year old island cottage; have fun with a small group of like-minded people rediscovering the awe of Nature – a loon's call, dewdrops on a cobweb, sunrise on the lake… 
Join us for 5 days on Shaws' Island, Lake Muskoka in a historic Included: Accommodation, meals and program.
Enquiries: Contact us