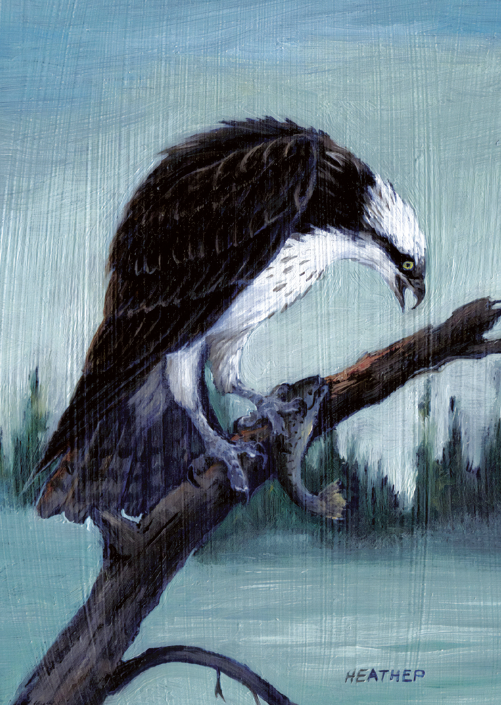 Ospreys, known as "fish hawks," have fascinated me since I was a little girl. In the summertime, my family of six, plus our Labrador Retriever, would drive close to 700 miles from my home in northwestern Ontario to a cottage north of Toronto in Muskoka, where many of my relatives gathered to visit. Each summer one of the rituals included a visit to an impressive Osprey nest built on a hydro pole near the water. My grandmother would drive by slowly in the wooden launch, and we would check if the nest was still there. (It always was!) We would look to see if there were any babies poking their heads out. The water is shallow in this part of the lake, and the area is no doubt a great fishing ground. It was a comforting sign of continuity that the huge stick nest was a little bigger and messier each year, and there were always Ospreys. 
The Osprey is a large raptor with a wingspan of nearly 6 feet—certainly, an impressive bird to see. And the great thing is that the Osprey may be found in temperate and tropical regions of all continents, except Antarctica. If you live near any expanse of shallow, fish-filled water, including rivers, lakes, ponds, and coastal waterways, you have a good chance of seeing an Osprey. They tolerate human activity.
While traveling in North America, there have often been moments when, despite the reason for my trip, I have been found gazing raptly at one or more Ospreys. One time, we took two of our children on a holiday to Moosonee, just south of James Bay, a town connected only by rail or plane that serves as a gateway to the North. We hoped they would learn a little of life in a small northern community, along with some of the history of the area, and observe interesting wildlife, such as the Beluga whales and local birds. We were staying in a small motel, and our room overlooked the Moose River. As we admired the view, we noticed an Osprey circling high in the sky. The bird put on quite a show for all of us as it searched for fish and then plunged down with its talons stretched out to clutch its prey. The Osprey flew off holding an improbably heavy fish with its feet!
Another time in southwestern Ontario, as I relaxed by the Grand River in Guelph, I watched with awe as an Osprey hovered above the fish it wanted. It is quite amazing to see a bird this size seemingly suspended in mid-air before zooming down for dinner! 
On the Gulf Coast of Florida, Ospreys are easy to spot, but since they are so common, people don't seem to take much notice. When these awesome birds go hunting over the bay during a yoga class on the beach, I can't help but watch. As I lift my head, my downward dog turns into something entirely different! Or when the Osprey flies into my line of vision, I lose focus, and my tree pose becomes no pose at all—but it's always worth it! 
Last spring, while in Sanford, Florida, I wandered through the small town waiting to take the autotrain home and noticed a parking lot with a row of tall light standards, maybe 20 feet high. Each one had four lights creating a square that supported an Osprey nest. There were Ospreys in every one of them! As they squawked and gave their high-pitched piercing whistle, people went about their business and shopped, while I stared spellbound at the sight of all these nests in a parking lot.
It is no wonder I included the Osprey in the Bird Vibes Meditation Deck. With their focus, power, strength, fearlessness, adaptability, and their ability to soar at great heights, Ospreys clearly fit in the seventh chakra. The seventh chakra relates to faith, vision, inner wisdom, joy, peace, understanding, spiritual connection, and manifesting divine purpose. And these attributes are accessible to all of us. 
Insert Osprey card
If you are lucky enough to spot an Osprey soaring, focusing on a fish, or bringing home dinner to its mate or young, consider how this bird may remind you that the universal energy around us shows up in surprising ways and places sometimes. If you concentrate on your goal, completely focused, you may reach it more easily than you think. 
As the card says, "Have faith—your way will be shown and the actions to take made clear."
Insert headshot with bio
Catherine C. Bastedo has taught Reiki at all levels, led workshops and retreats, volunteered as a wellness coach for cancer survivors, and sat on the board of a nonprofit organization devoted to women's health. She practices yoga and meditation and writes online articles related to complementary health. Catherine spent her childhood in northwestern Ontario, obtained her MA in Canadian studies, and now lives in Gatineau, Quebec. She enjoyed a career at a senior level with the Canadian government and then was executive director of an international nonprofit that promoted and supported Canadian studies, before turning to her writing and energy work. She loves spending time with family, being outdoors, and traveling, and is always curious to learn about the flora and fauna of other countries, especially the birds! For more information, please visit www.CatherineCBastedo.com.